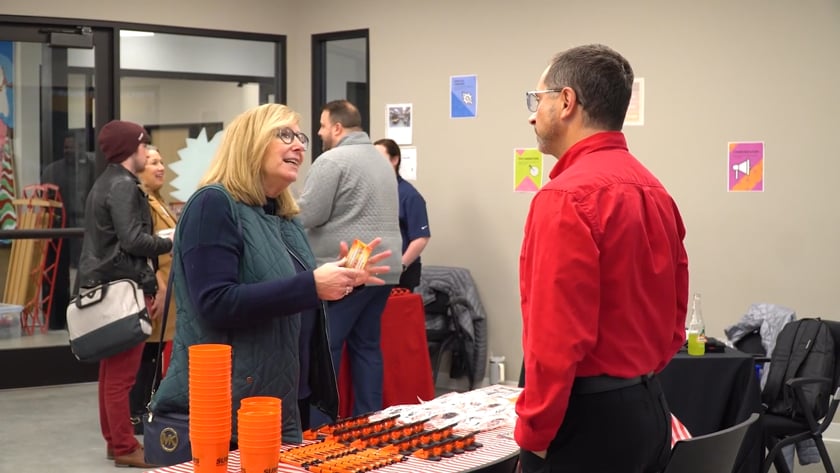 Fishers Maker Playground at Hub & Spoke
From tool-lined cubby walls to advanced laser cutter stations, stepping into the Fishers Maker Playground at Hub & Spoke brings out the inner tradesman in everyone.
This collaboration between the City of Fishers and Hub & Spoke paved the way for hands-on experiential learning based around craftsmanship, creating budding makers and entrepreneurs who have a knack for working with their hands. The space hosts various educational events throughout the year, bringing together the community and providing a creative ecosystem that helps makers flourish.
Most recently, Hub & Spoke and Fishers Maker Playground hosted a Career Exploration event designed to educate attendees of all ages about the construction industry and its available career opportunities.
Meyer Najem, along with other local industry leaders ACo, BDA, and Summer Plumbing Heating & Cooling, had the privilege of participating in an employer panel where they shared their knowledge about the construction industry, discussed rising demand and shared their diverse career journeys.
"Today, more than ever, the construction industry is in need of young adults that are interested in a career in skilled trades," stated Anthony Najem, CEO of Meyer Najem and event panelist. "I can speak for all of us here when I say—hard work and determination can lead to a long, successful career in construction."
After the panel discussion, the participants began the "making" activity—creating a wooden toolbox with the help of the Meyer Najem crew, who walked young woodworkers through the steps of piecing their masterpieces together. Other attendees discussed their current hobbies with the panelists and entered the raffle, with hopes to win one of the tools featured in the Makers Space.
"It was a great experience to be able to talk to the future of construction," said Michael Luse, a Meyer Najem Project Manager that was involved with the event. "The Fishers Maker Playground and Hub & Spoke has created an environment that educates the younger generations while engaging them in really great activities like this toolbox build."
As for future Hub & Spoke happenings, head to their website to stay in-the-know about upcoming events and community activities—you may see Meyer Najem there!